Spatial Tissue Book とは?
Spatial Tissue Book は、GeoMx® DSP テクノロジーアクセスプログラム (TAP) または CosMx™ SMI テクノロジーアクセスプログラム(TAP)を通じて解析された、さまざまな組織タイプや疾患の画像、データ、選択およびセグメンテーション戦略のリポジトリです。
Tissue Book の個々のPDFページには組織の画像が含まれており、疾患や種、実行されたアッセイの種類によって注釈がつけられています。
Tissue Bookはどんなふうに使う?
研究対象の組織および/または疾患領域の代表的な画像を参照してください。
研究設計のニーズを満たすためにROIを選択し、組織をセグメント化する際の研究戦略のアイディアを得ることができます。
様々な疾患を表すそれぞれの組織からの空間トランスクリプトミクスデータを確認しましょう。
GeoMx tissue bookのページ構成を見てみましょう!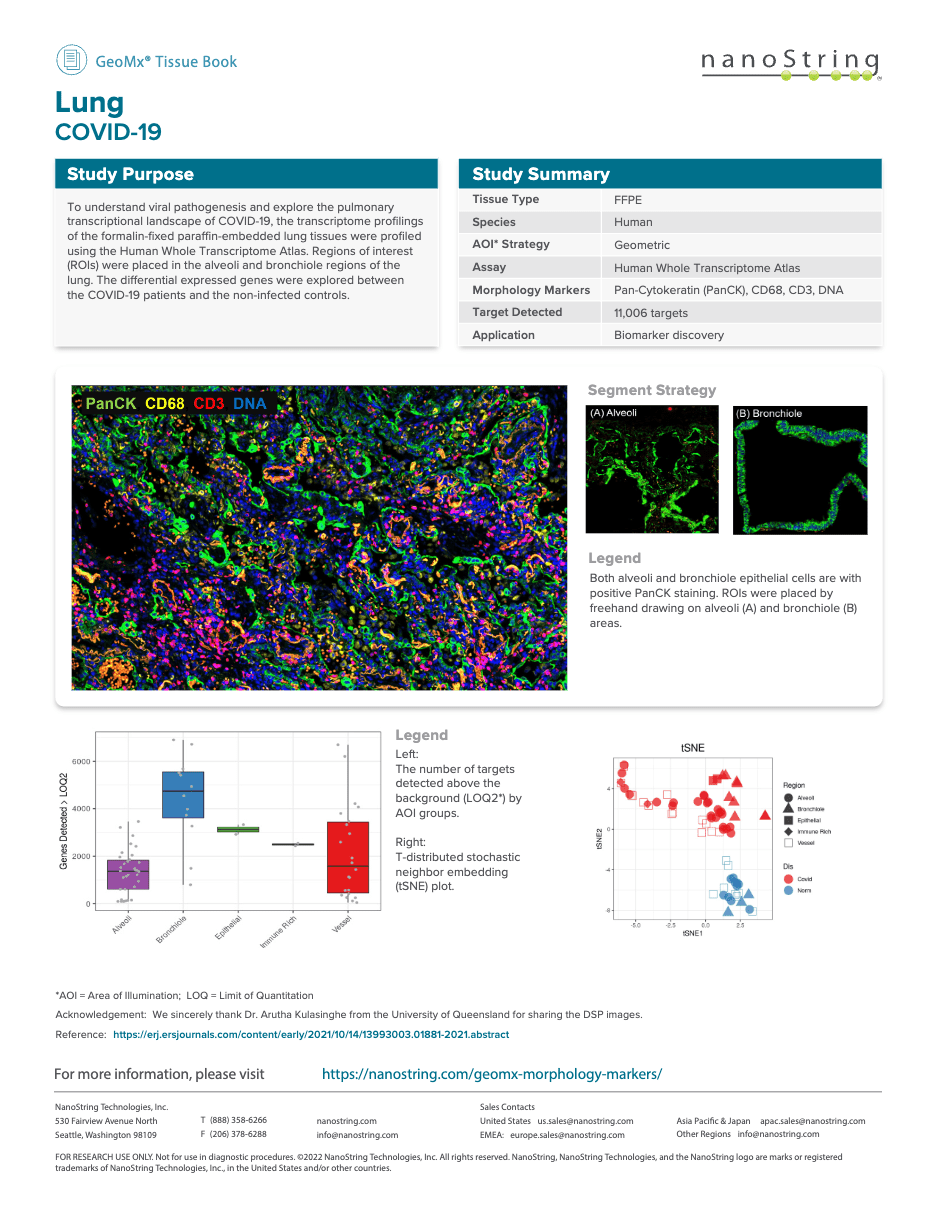 The type of tissue and disease profiled.

Learn about the application and study design.

Get a high-level overview of what kind of sample type was used, species, strategy for area of illumination as well as the assay and morphology markers used. Learn how many targets were detected from the assay for this particular study.

See an actual image taken with either the GeoMx Digital Spatial Profiler or the CosMx Spatial Molecular Imager annotated with the different fluorescent markers used to outline tissue morphology and/or cell types.

Learn more about the Segmentation Strategy and how individual regions of interest were compartmentalized into different areas of illumination and/or cell type populations.

See how many targets were detected above the background for each tissue compartment and/or cell type profiled.

View additional plots showing the results of the study.

Here you can click on this link to visit our Morphology Marker page to learn about which fluorescently-tagged antibodies or RNAScope Probes have been used on the GeoMx DSP.
Tissue Book Collection
Browse entries here, or just download the complete tissue book.
| Tissue | Tissue Biology | Species | Type | Assay | Instrument | |
| --- | --- | --- | --- | --- | --- | --- |
| Lung | NSCLC | Human | FFPE | 1000-Plex Human RNA Universal Cell Characterization | CosMx | Download |
| Liver | Normal | Human | FFPE | 1000-Plex Human RNA Universal Cell Characterization | CosMx | Download |
| Liver | Hepatocellular Carcinoma | Human | FFPE | 1000-Plex Human RNA Universal Cell Characterization | CosMx | Download |
| Brain | Normal | Mouse | Fresh Frozen | CosMx Mouse Neuroscience Panel | CosMx | Download |
| Breast | Breast Cancer | Human | FFPE | 1000-Plex Human RNA Universal Cell Characterization | CosMx | Download |
| Kidney | Pediatric Renal Allograft | Human | FFPE | Human Whole Transcriptome Atlas | GeoMx | Download |
| Lymph Node | Lymphoma | Human | FFPE | Human Whole Transcriptome Atlas | GeoMx | Download |
| Lung | Lung Cancer | Human | FFPE | Human Whole Transcriptome Atlas | GeoMx | Download |
| Skin | Hidradenitis Suppurativa | Human | FFPE | Human Whole Transcriptome Atlas | GeoMx | Download |
| Brain | Parkinson's Disease | Mouse | FFPE | Mouse Whole Transcriptome Atlas | GeoMx | Download |
| Ovary | Ovarian Cancer | Human | FFPE | Human Whole Transcriptome Atlas | GeoMx | Download |
| Brain | Schizophrenia | Human | FFPE | Human Whole Transcriptome Atlas | GeoMx | Download |
| Breast | Breast Cancer | Human | FFPE | Human Whole Transcriptome Atlas | GeoMx | Download |
| Colon | Colonic Adenoma | Human | FFPE | Human Whole Transcriptome Atlas | GeoMx | Download |
| Esophagus | Barrett's Mucosa | Human | FFPE | Human Whole Transcriptome Atlas | GeoMx | Download |
| Kidney | Kidney Cancer | Human | FFPE | Human Whole Transcriptome Atlas | GeoMx | Download |
| Liver | Hepatocellular Carcinoma | Human | FFPE | Human Whole Transcriptome Atlas | GeoMx | Download |
| Lung | COVID-19 | Human | FFPE | Human Whole Transcriptome Atlas | GeoMx | Download |
| Lung | Tuberculosis | Human | FFPE | Human Whole Transcriptome Atlas | GeoMx | Download |
| Lung | NSCLC | Human | FFPE | Human Whole Transcriptome Atlas | GeoMx | Download |
| Muscle | Myositis | Human | FFPE | Human Whole Transcriptome Atlas | GeoMx | Download |
| Placenta | Chronic Intervillositis of Unknown Etiology | Human | FFPE | Human Whole Transcriptome Atlas | GeoMx | Download |
| Prostate | Prostate Cancer | Human | FFPE | Human Whole Transcriptome Atlas | GeoMx | Download |
| Skin | Melanoma | Human | FFPE | Human Whole Transcriptome Atlas | GeoMx | Download |